Many people have already replaced the carpets in their homes with hard flooring. That is not some sort of new fashion, people have realized hard flooring is more easy to maintain and looks better. It is much harder to see a spot on this type of flooring. Cleaning hard flooring is so easy even your kid can do it.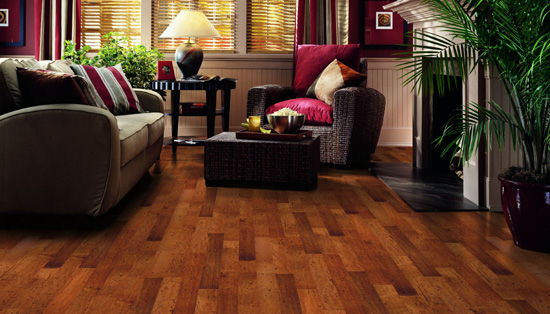 There a different types of flooring and that determines the cleaning method used. The best thing about hard flooring is you don't need any special equipment in order to keep if clean and shiny.
There are special cleaning solutions for the different types of hard flooring, but there is one thing you have to remember. Use small amount of the detergent mixed with warm water, otherwise you risk dulling your floor. Be careful when mopping, always use damp mop, because water can damage the flooring. Even though almost every type of hard flooring is water resistant, doesn't mean it is completely waterproof. Ask the manufacturer for advice about which cleaning solutions best suited for your type of flooring.
Cleaning Different Types Of Hard Flooring
Lets start with the most beautiful and expensive type of flooring. Yes, I'm talking about the all-time classic, hardwood flooring. Mainly you have to frequently vacuum the floor with lightweight vacuum cleaner with a soft brush. Sweeping with a dry mop is also a good alternative. Every now and then you should clean the hardwood more thoroughly using a cleaning agent. Better to be a light and Eco-friendly one. Take care of any spills immediately. Neglecting them will permanently damage your floor.
Laminate flooring is a cheap alternative to the hardwood. It is covered with a protective coating, which is very durable. Nevertheless you shouldn't use too much water while cleaning. Try a mixture of warm water and lemon juice. Believe it or not it actually cleans pretty well and at the same time freshens the air. There is also unsealed linoleum, but I don't think we should even discuss it. The material it is made is porous and any liquid will be fatal. The good thing is you can seal the linoleum, making it washable.
I'm not sure that the next type even belongs to hard flooring. Vinyl is a soft and shiny synthetic material similar to leather. Daily vacuuming is a good idea, because over time dirt and dust can build up, resulting in stains. Every once in a while you'll have to use light detergent mixed with water. Last comes the ceramic flooring. I personally don't recommend it, because it demands more care. The best way to clean it is by hand. If you live in don't want to do it you can always call a cleaning company.