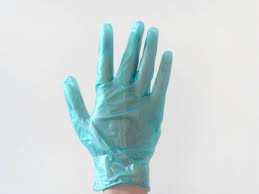 Disposable gloves are mainly used in the health care industry where protection from diseases and contamination is of the highest priority. With the advance of science and technology they have been perfected beyond any doubt. Latex free gloves were produced as the answer to latex allergies which tend to affect a considerable part of the population using latex gloves. Nowadays latex free gloves have found applications in many other spheres besides the health care industry. Disposable gloves such latex free gloves or vinyl gloves are used in the food processing industry to prevent food contamination and maintain proper level of hygiene. This use has been picked by households and now many people use disposable gloves when preparing and cooking their food at home.
Let's start with understanding the difference between latex and latex free gloves and its implications. Latex gloves are made of natural rubber which contains latex. Natural rubber gloves have reality nice qualities. They are durable and allow for easy handling of objects. Unfortunately, as more and more people tent to be allergic to latex a proper substitute is necessary. So manufacturers have come up with synthetic rubber gloves made of vinyl or nitrile. They have similar to latex gloves qualities but nitrile are more expensive.
Using disposable gloves to handle food in the kitchen should not at any time be a substitute for hand washing. Remember that regular hand washing is the best way to kill bacteria and germs. Wearing latex free gloves provides only additional protection and hygiene. Vinyl gloves prevent the spread of diseases and bacteria but do not eliminate the viruses.
When working in the kitchen you should change your gloves when dealing with different types of food. For an example, when you are done with the red meat and start preparing vegetables, you should change the pair of latex free gloves you are wearing. Every time you touch your body, go to the toilet or touch a dirty surface be ready to change gloves.
To decrease costs you should know that vinyl gloves are cheaper than nitrile, but do not provide the same grip and handling capabilities.