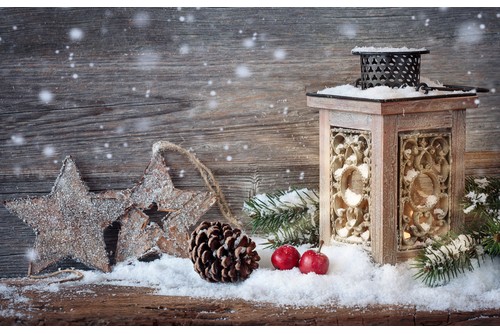 Who says that Christmas is the only time during winter when you can decorate your home? Instead of being grumpy and nostalgic about the passed holidays, you can set a nice, winter mood in your home. Wonder how do to this? Just take a look at this easy ideas for winter decoration.
Typical Winter Materials
"Furnish" your home with materials, which are typical for the season. What I have in mind is suede, wool, leather or velvet – they are doing a great job for this purpose. Of course, yarn is never out of fashion, so don't forget to include it in your home decor project. Wood is often related to winter and it brings warmth in your house. Therefore try to implement some kind of wooden element in the winter decoration.
Old Metal Lanterns
Such lanterns look beautiful and stylish, especially when you place them on the window sill, so even the people passing by will notice your good taste. The old metal lanterns will also be helpful in creating a romantic atmosphere when you are in such a mood.
To make them look more winter, you can fill them up silver, white or blue ball ornaments. Another idea is to put candles inside the old lanterns. They will be so inspiring, that even if you are not a photographer, you will want to take a few photos of them.
Silver Elements
Surely, you can rely on different silver decorative ornaments, which will assist you in creating the perfect winter atmosphere at home. These silver elements can be candles, fruit trays, painted pinecones, photo frames, tablecloths, napkins, etc. Put your imagination to work.
Winter in the Bathroom
When decorating your home for the current season, don't forget the bathroom. You can do this by hanging a shower curtain decorated with typical winter ornaments, such as snowflakes or snowmen. If you are not able to find such a curtain, you can arrange in a basket several towels with sewn winter emblems on them.
Paper Snowflakes
This idea is well-known and can be used even after Christmas and New Year's Eve. It's very easy and cheap version for winter decoration. It's not obligatory to make the snowflakes white. You can choose paper in different colours and create your own snowflake patterns. Once you cut them out, you can hang then on curtains, stick them to windows or let them hang from the chandelier.
More Ideas
In addition to your winter decoration, you can use wood carvings, winter wreath or a vase with alder branches.