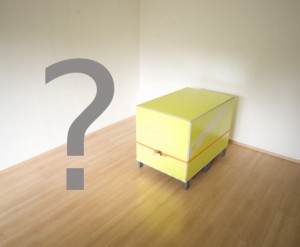 At first sight, this yellow box looks like an ordinary European pallet and you can't even imagine what it stores inside. It's only 90 cm high but it contains a full set of room furniture, which can be assembled in just several minutes without any tools. Sounds unbelievable, right? Check the photos in the article to see that it's actually true.
The name of this box is Casulo and it was designed by two Germans – Marcel Krings and Sebastian Mühlhäuser as their graduation project. Their main goal was to create something that helps the modern person be more flexible and mobile. Therefore, they designed a room, which fits in a box with width of 80cm, length of 120 cm and height of 90cm. Casulo can be easily transported and stored, which makes it the perfect solution for people who relocate very often and who are tired of moving services. Only two people are needed for lifting up and carrying the unit.
Now, let's have a look what's inside this mysterious box. Each unit contains the following items:
wardrobe
large table with surface of 80cm by 160cm
separate desk cabinet with drawers
single bed with dimensions 200cm by 80 cm
mattress
height-adjustable chair
two stools
tall set of shelves
These pieces of furniture can be easily assembled by one of two people without needing any additional tools. Casulo is made from strong materials and even after numerous moves, there will be no signs of wear and tear. When dissembled, the box doesn't require extra packaging and its size makes if perfect for storing or transporting.
Casulo is truly the perfect solution for individuals who change their location frequently and who are tired of moving home. This unit makes the process really efficient, inexpensive and easy. One can save a lot of money from moving home services and London upholstery cleaning services.
The only bad thing about Casulo is that it's still just a concept. We can cross our fingers and hope that soon the designers will begin to produce and sell it to customers.