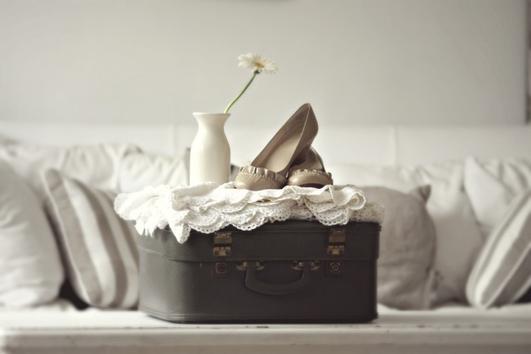 Old items, which can still be found in your grandparents house, have become very modern again. They are the perfect match for a home, decorated in the warm industrial style. Typical for such a home are peeling or brick walls, which are covered with newspapers, magazines or book pages. Or they can simply be left unpainted.
When it comes to decorating warm industrial home, you can experiment by combining contemporary art with old vintage items. Below you can find a list of the most appropriate things for this purpose and you can gain inspiration about their location in the apartment from the gallery at the end.
Suitcase
The older, the better! It will be lovely, if there are still stamps or labels on it, which remind for former journeys. When the suitcase is retired and becomes a part of the home interior, you can use it as a table, a drawer, a bed for your pet, a shelf and more.
Bicycle
It looks undeniably artistic on the wall. The bicycle can be used as a stand for flower pots or the more creative people can find an extraordinary place for it – in the bathroom for example.
Typewriter or Sewing Machine
Even if you have never used the mentioned appliances in your life, you will still admit that they look incredible in the home interior. They create a unique vintage spirit and will charm anyone, who sees them. The presence of modern computers can't stop you from enjoying the romantic-looking typewriter.
Telephone
If you can find a street telephone, it will look amazing installed on a wall. But even a typical dial phone can be a good choice for implementing the vintage spirit in your home.
Gramophone
Now this is an idea for true connoisseurs. The gramophone can serve not only as vintage decoration, but it can also be used for playing old records. It's the perfect addition to a romantic dinner.