Nothing makes people closer than a long conversation over a hot cup of coffee or tea. And several sugar hearts in the beverage will add at least one more smile to your day. Just imagine the happiness on the face of your loved one, when he or she sees the floating little hearts in the favourite cup. And you can show your love with this sweet gesture not only on Valentine's Day, but every weekend when you decide to prepare breakfast in bed for your soul mate.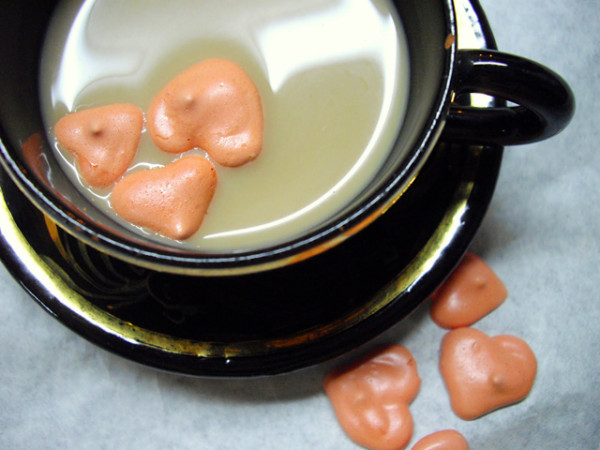 So if you want to surprise the beloved person, here is how to make these cute little hearts.
Products:
1 egg (you'll need just the white)
4 tbsp sugar
2-3 drops of red confectionery paint
Instructions:
Beat the white of the egg with the sugar, until the mixture is so thick, that even if you turn the bowl upside down nothing will drop.
Add a few drops of the confectionery paint and mix it well, so the colour distributes evenly.
Make a small cornet out of paper and cut a thin hole on its end. Put the mixture in it.
Cover a pan with baking paper and start drawing the hearts with the cornet.
Bake the shapes at 90 degrees Celsius with ventilation on. When the hearts are ready, take them out of the oven and let them cool for a while. Be careful when you remove the hearts from the baking paper, because they are very thin and fragile.
Additional Tips:
Save the baking paper for later, because it will be coloured with red heart-shaped outlines. You can use it for gift wrapping or for the making of a greeting card.
Sprinkle the hot coffee or milk with several sugar hearts – the coffee becomes sweeter, the milk turns slightly pink. It's like all your love is gathered in just one cup.
Who needs expensive gifts for Valentine's Day, when this simple gesture says "I love you" much better?