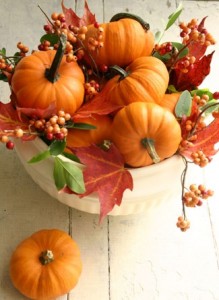 Autumn has arrived with lower temperatures, but with warm and beautiful hues. When you look outside and see all the shades of brown, red and yellow, you simply feel nature around you. So why not bring this warm feeling inside your home? There are some very good home décor items inspired by the colours of autumn.
It is not obligatory to buy new pieces of furniture just to match one season. You can do the trick by using simple and cheap things for decorating your home. The living room should have a cosy feel, therefore use denser fabrics, soft mood lighting and darker colours.
You can also dress up your pieces of furniture with wool or cashmere draperies. Arrange several apples, scented candles and cinnamon sticks on the coffee table. In this way you guarantee a lovely, sweet smell in your home.
If you have a painting with autumn scenery, now is the time to find the right place for it. Combine it with a bowl full of dried leaves and soon your guests will start complimenting you for the good decorating style.
Do you have a fireplace? If yes, it can also look stylish with a wrought iron candlestick on it, along with a bowl full of seasonal fruits.
With the arriving of autumn begins the season of holidays and Halloween is one of them. Even if you don't believe in ghosts, you can still benefit from the not so expensive Halloween decoration. Pumpkins add a great vibe to any home with their beautiful orange colour. If you don't have time to carve them, just arrange few of them in different sizes, together with seasonal flowers.
Pillows are also one easy way to add the colours and beauty of autumn in your property. There is a huge variety of pillows on the market, so anyone with low budget can find several ones, which will match the home style. Light or dark brown, red or orange – it's up to you. To keep the beautiful autumn look of your home longer, it's good to perform upholstery cleaning in London regularly.
With these few simple tips you will easily escape the autumn depression and start enjoying this colourful season.