Wondering how to brighten up the gloomy and cold winter setting? Well, wonder no more, because I have the perfect solution for you – spring flowers. And I know that spring flowers are supposed to bloom in spring, not in winter. But if you take a proper care of them, they will return the favour by freshening your home with beautiful colours.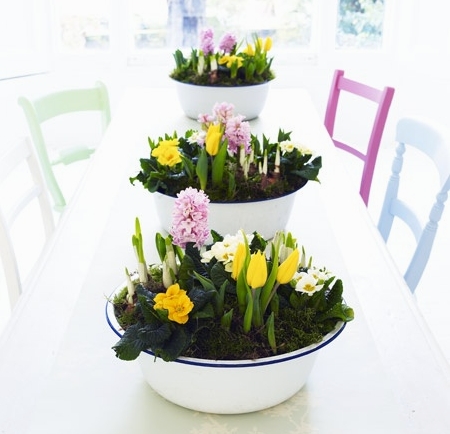 If you provide the needed conditions, some spring flowers can grow inside your home even if outside is still snowing. Such flowers are hyacinths, primroses, tulips, crocuses, daffodils, snowdrops and even May-lilies. Other plants, such as azalea and cyclamen, remind us of spring with their bright colours.
The following tips will help you with the process of growing spring flowers in winter:
Regularly clean the faded blossoms of the azalea, in order to make space for the new ones.
The room, in which the hyacinth is growing, should be ventilated every day, because the flower loves the fresh air. Besides that, the pot should have a sunny spot, where the hyacinth will get its needed daily dose of sunlight.
If you want to enjoy the primrose's blossoms longer, you will have to keep it an a low pot and water it on a regular basis.
Not a lot of people are familiar with the fact, that it is possible to grow snowdrops on the balcony, despite the cold weather outside. If you want to try this idea out, you can plant the snowdrops in a small wooden box. Make sure to nurture them regularly once they start growing. Don't worry about the low temperatures outside, because the flowers won't be damaged.
Nowadays, you can find May-lilies in many flower shops. The May-lily likes sunny places, fresh air and not very high room temperatures. If you have small children or pets at home, you should be extra careful, because the May-lily is poisonous.
Another good idea for brightening your home during winter, is to make your own amazing flower arrangements. Martha Stewart has several marvellous suggestions, which you can check out here.
Enjoy the bright and beautiful colours of spring flowers!