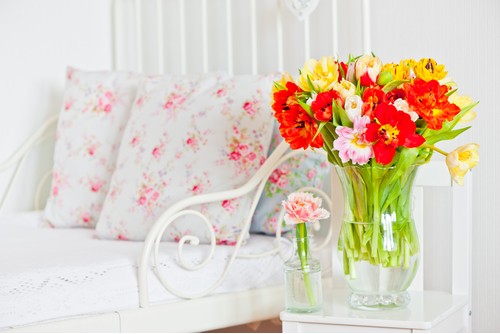 Spring is the season of warm sun, cool breeze, radiant smiles and good mood. Welcome spring in your home by using these great 7 décor ideas.
Colourful Tree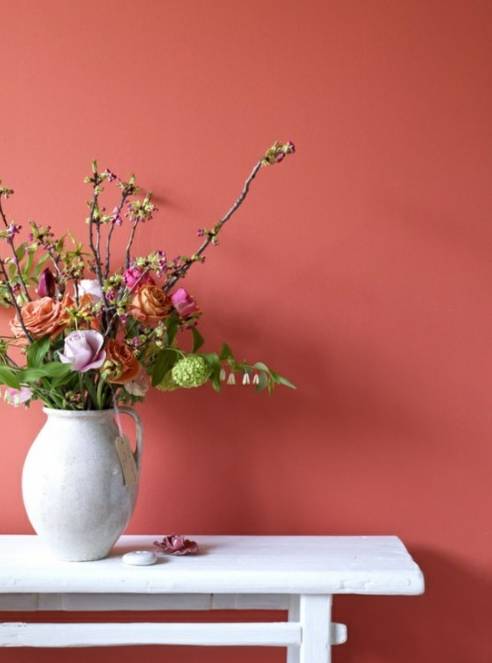 Make yourself a colourful tree, so you can feel the spring spirit at home. Gather a bouquet of branches or look for one big branch with several smaller ones on it. Arrange them in a beautiful vase. Quick tip: if you want the vase to be more stable, you can put small decorative rocks on the bottom.
Afterwards, you can decorate the tree with colourful ribbons or origami paper flowers.
Spring Lamp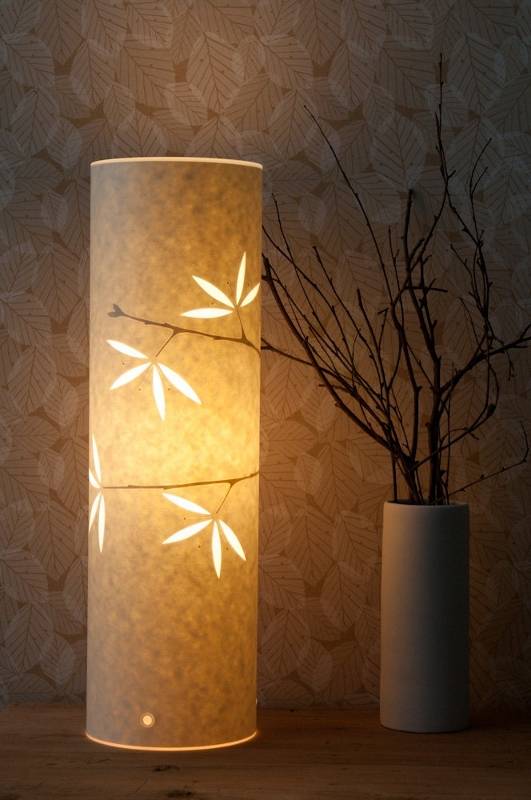 The making of a spring lamp is the perfect excuse for renovating the boring old lamp. Choose an appropriate sheet of paper and roll it into a cylinder. You can draw butterflies and flowers on the paper or you can use stickers with spring motives. Another great idea is to perforate the paper with a needle and create different objects with it. In this way when you turn on the light, the shapes will start dancing on the walls.
Spring Walls
It is never too late to decorate the walls in your living room with interesting paintings. Embrace the spring inspiration and arrange a mini exhibition. For this idea, you will need a set of 3 square frames, which you will later arrange horizontally above the sofa.
The pictures or paintings which will be framed are entirely your choice. Some people prefer watercolour paintings of spring flowers. Others would rather see captured memories with the loved ones. Third choose positive and inspiring thoughts of great people.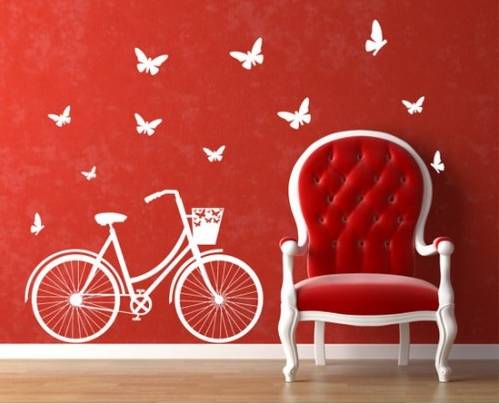 The other option for spring decoration of the walls is to paint them in lively bright colours. Or just add some accents by using butterfly and flower patterns or stickers. Just have in mind that if you live in a rented property, you should ask your landlord first if you are allowed to do such changes. Otherwise, you might be extra charged for this later on when your landlord hire an inventory services team to inspect the property.
For a Good Appetite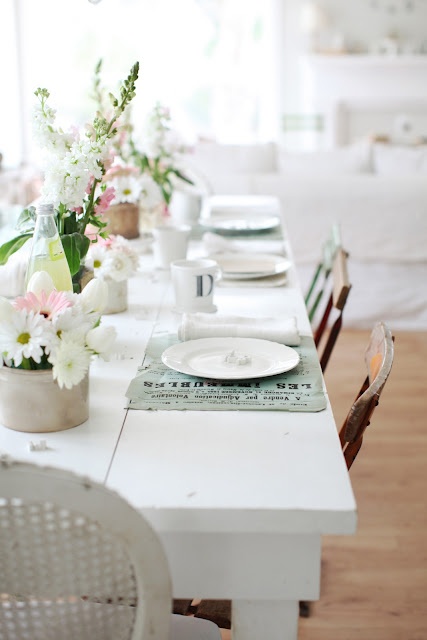 The spring spirit should be spotted on the table as well. Create your own cases for kitchen utensils. You will need 2 rectangular pieces of cloth (in pastel colours if possible), one longer than the other. Sew them together and leave the upper part open or half-sewed, so you will be able to place the utensils inside. To make the cases more interesting, embroider spring flowers on them.
For creating a spring themed table you can also use colourful napkins, dishes and cups. Make a selection of your favourite spring flowers and arrange them in a centrepiece for the table.
Green Accents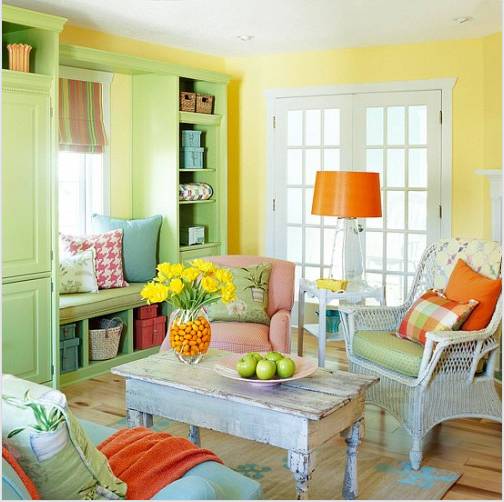 The colour green is the trademark of spring. It gives fresh and energizing look of every room, so bravely decorate with it. You can paint one of the walls in green or choose an element of the home décor in green, such as pillows, tablecloths, curtains, armchairs, etc.
Half Curtain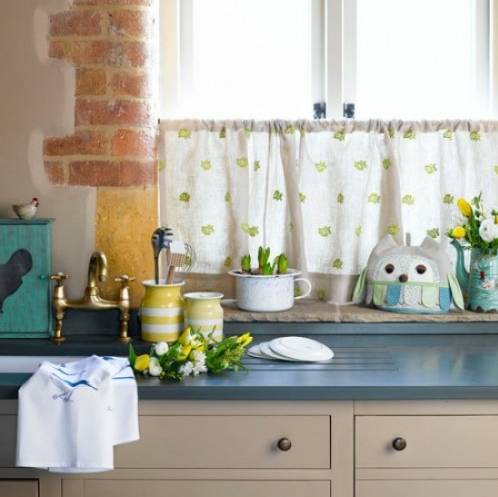 It may sound strange to you but curtains which cover only half of the window are the hit in home decoration for the year of 2013. Floral patterns and retro lace can turn any curtain into a vintage one, which will make your kitchen look cosier. You can even use it for covering a kitchen cabinet.
Spring Garden Décor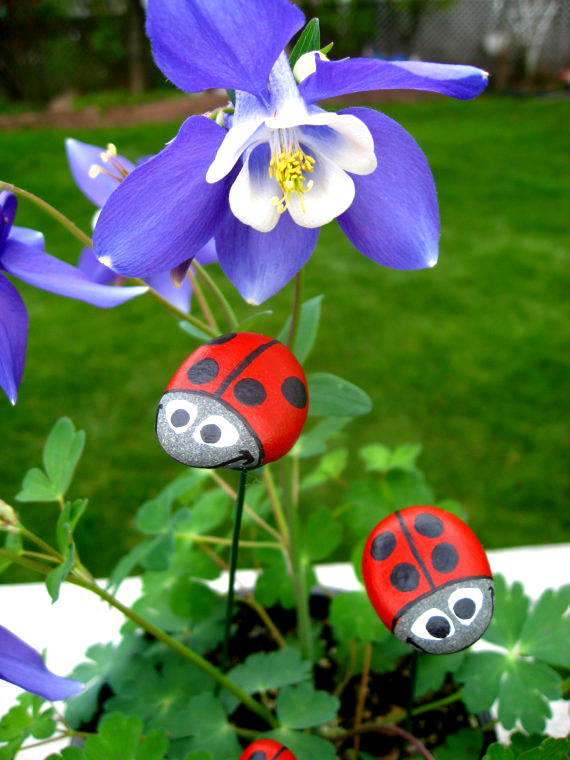 During spring the air is sweet with so many fragrant flowers, which you can successfully grow in your garden. When you arrange the flower pots, you can decorate your garden with ladybug pebbles. For the purpose, you will need several flat pebbles, black and red paint and a brush. Use them to draw the ladybugs and don't forget to put eyes and a mouth as well. When they are finished, spread them around the flower pots or inside them.
Another great idea is to cut out paper butterflies. Ask your kids to colour them in bright colours and then glue the butterflies to sticks or straws and insert them in the flower pots.