Easter is approaching and it's time to prepare for the holiday. But if you are bored with the old-fashioned way of dyeing eggs, I will suggest you an extremely easy and amazing idea – colouring Easter eggs with old silk ties.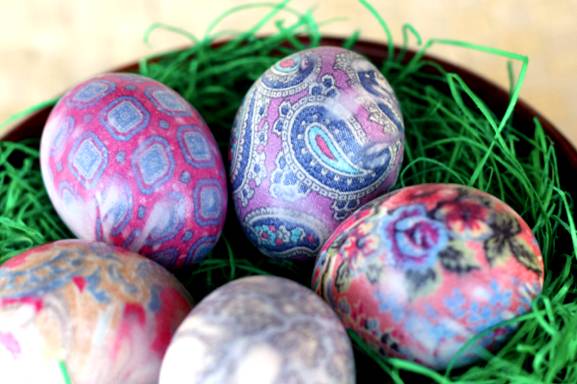 You Will Need:
Pieces of old silk ties (or shirts, or scarves);
Scissors;
Cotton cloth;
Thread or soft wire;
Instructions:
Cut the ties and remove the lining, until there is only silk left.
Cut the silk into pieces, big enough to cover one egg.
Wrap the Easter egg and leave the front of the fabric outside.

Tighten as much as possible, but be careful not to break the egg. The tighter the silk, the better the dye effect.
Now wrap the tied egg with the cotton cloth. An old pillowcase will be ideal for this procedure.
Tie the egg with a thread or soft wire.
Put the eggs in a pot and cover them with water.
Add a quarter cup of vinegar and let them boil for 20 minutes.
After that take the eggs out and arrange them on a towel to dry and cool down.
Untie the Easter eggs and enjoy their colourful and joyful shells.

Additional Tips:
To guarantee the perfect dyeing of the egg shells, you will need high quality fabric. Therefore, make sure that the one you will use is not polyester or another synthetic fabric. You can usually find this information on the label of the tie or scarf.
If you don't have old silk ties, you can easily find such in a local outlet store. In this way the Easter dyeing won't cost you a fortune.
When you decide what ties to choose, go for dark colours. Navy, purple and red are the best choice. Ties decorated with small shapes can also be useful, because they will print on the egg and make it look extraordinary.
Happy Easter!