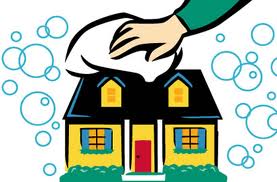 It can be very emotional to leave a property where you've lived for a long time. You might have many memories related with your place that may simply not give you a heart to leave it, but this is the life, and sometimes we make choices that we don't want. Another thing that you may not want to leave behind is any grime and mess.
When you moved in your former property, it probably was all sparkling and shiny. But if you have resided in it for several years, you may not have noticed all dirt and dust that have built up during that time. So when it comes the time for you to move out, the property shouldn't be left with all that grime, but in a sparkling condition that will satisfy you and the new residents as well.
Deep cleaning and scrubbing will be required to restore the look of the property as it was when you moved in, but when you are moving out, there is not always time to complete as thorough job as is needed, and it is time to call professional end of tenancy cleaning company.
The property will be thoroughly cleaned from top to bottom by the end of tenancy cleaning company, restoring its shiny look and giving you the time needed to pack and load your possessions undisturbed. What's more, using professional end of tenancy cleaning services will give the peace of knowing that you will get you full deposit back when you hand over the keys of your former property.