Valentine's Day is here and it's time to celebrate it properly with your significant one and a glass of fine red wine. It doesn't matter where you are going to spend this holiday, as long as you are with the person you love.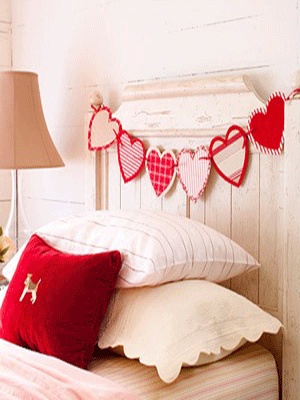 If you don't want to spend a lot of money for expensive restaurants, you can surprise your soul mate with dinner at home. Cook his or her favourite meal and don't forget the dessert – chocolate, sugar hearts, cupcakes, cookies. To enhance the romantic atmosphere for the special evening, you can choose from our decoration suggestions:
Vase with "Love" Flowers
Flowers have the ability to capture the attention of people, no matter where you place them. You can benefit from their magic in order to create romantic atmosphere. Red roses are classic, but if you want to avoid clichés, you can select one of the other options: violet tulips, white lilies, purple hyacinths or a bouquet made of your spouse's favourite flowers. Whichever type you choose, the room will definitely acquire a new look.
Scents for the Home
To achieve the perfect romantic atmosphere, you'll need to choose a special scent for your home. It's not necessary that everything on the 14th of February smells like roses, vanilla or something sweet. Choose a scent, which suits both you and your significant one. Some people prefer citrus scents, others are enchanted by the scent of sandal wood and ylang-ylang (which are also aphrodisiacs), third enjoy the smell of the mountains – pine, eucalyptus and herbs.
Vintage Ornaments on the Table
The vintage style can also bring a dose of romance in your home. Tablecloth, napkins or china with floral motives in combination with beautifully arranged table are enough to show your partner that you care about him/her and you try to make his/her evening special.
Travel … at home
Not everyone has the opportunity to visit a romantic destination for Valentine's Day. But this fact shouldn't bother you, because you can travel at home. Recreate the atmosphere, typical for Paris and Venice, by using appropriate music, French or Italian cuisine and a themed movie, which will mentally send you to the desired location.
Decorate with "Love"
Your home hides a lot of places, which can host the word "love". The easiest way is to stamp it on a pillow or blanket with red fabric paint.
You can also create a DIY heart bouquet, which will be a simple and neat decoration for any room. You need red paper or felt, from which to cut out the hearts. Then glue them to wooden sticks and put them in a small vase. Cute, isn't it?
Another good idea is to choose a favourite sentence, write it with a beautiful font, then print it and put it in a frame. In this way the power of love will be perpetuated in your home for years.

If you take a look around the local furniture and home décor stores, you will definitely find an item, designed specially for Valentine's Day, such as a book stopper, which spells "Love".
Happy Valentine's Day to all! Love and adore each other!