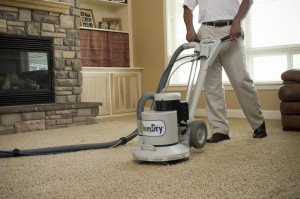 The carpet and rugs in our houses must be cleaned at least two times a year. To choose the right cleaning process and tools is vital for your carpet to stay intact. Some cleaning methods may do some damage and leave residues, which will make re-soiling faster. If not sure what to do and how to do it, the possibility to call cleaning company is always available.
For people who do not have the needed budged to hire cleaning company, below are few methods shown that explains carpet cleaning.
The Bonnet Cleaning
This type of cleaning use a buffer with a bonnet on the edge to clean the carpet. Cleaning solution must be sprayed on the carpet, after the bonnet is rotated the floor will play as a buffer. After this type of cleaning, the rug must be vacuumed when the rug get dry. This method of cleaning is proven to be quite effective, still the chance a residue to leave is big.
Cleaning with foam
Clean a carpet with foam, you do not believe? Try this, the foam must be place onto a brush that will be applied into the fibres of the carpet. Again after this treatment, go over the carpet or rug with vacuum cleaner to remove the dirt. Some commercial cleaning company use similar method, but with far more advanced equipment.
Dry Method Cleaning
With this kind of method where dry cleaning is performed, a powder solvent is sprayed on the carpet. Afterwards, a rotating brush is used to work on the powder into the carpet. The last thing to do, is again to vacuum the powder and the congested dirt out of the rug. There is no drying time because no water is used with this method of cleaning. If you going to use dry cleaning, make sure to clean your carpet after with steam on regular basis in order to remove any residue.
The steam cleaning and dry cleaning aren't simple tasks to do, if you need such cleaning methods on your carpet, and not sure how to handle it, hiring cleaning company for this purposes is advised.