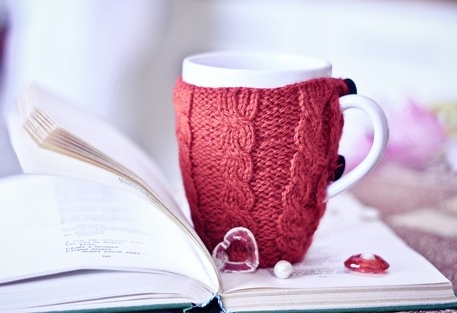 During winter time people often rearrange their wardrobes to find a place for all the thick winter clothes, which usually take a lot of space. Most of the times when you do this, you find some old sweaters, which you haven't worn for ages and even hardly remember. But don't throw them away, because they are still very useful – you can upcycle them in so many interesting and creative things for the home.
Here are 10 brilliant DIY ideas for reusing old sweaters:
Cup Warmers
In the cold days of January one of your best friends is the hot cup of tea. If you want to keep the heath for longer, you can make a cute cup warmer from the sleeve of an old sweater.
Pillowcase
The rest of the sweater can be used for making decorative pillowcases. If you have enough time and yarn, you can even create a cover for a whole sofa.
Coasters
Another brilliant DIY idea is to make cup coasters – just cut out circles, squares or any other shapes from the old sweater and then sew the edges with a thread, so they won't loosen with time.
Jewellery
Leftover yarn can be your basic material for creating different pieces of jewellery – bracelets, earrings, brooches and others.
Handbag
If you have already used the sleeves and are wondering what to do with the rest of the sweater, you can turn it into a beautiful handbag. Decide what size will best suit your needs and then choose the type of straps you want – wooden, metal, plastic or yarn.
Wreath
One of the most beautiful ways for reusing old sweaters is to turn them into a yarn wreath. You can easily do it yourself and bring a fresh touch in your home. It's up to you to decide, if you are going to hang the wreath on a wall or the front door. You can make a yarn wreath for different occasions, such as Christmas, St. Valentine's Day, Easter, Halloween and so on.
Pot Covers
Are your pots brown, boring and not matching your home décor at all? Now you change that by knitting pot covers from the old yarn. Actually, these covers can also be used for pencil holders, vases, bottles, etc.
Gift Wrapping
Instead of buying expensive gift wrapping paper, you can make your gifts unique by using yarn from old sweaters. Such a gift will bring a smile on the face of any person.
Pompoms
These fluffy balls are very simple to make and afterwards you can use them for so many things – decoration, garlands, bookmarks, flowers and so on.
Decoration
Old sweaters can also be used for decorating purposes. You can't even imagine what beautiful things you can create just with little bit of yarn, some balloons and glue.