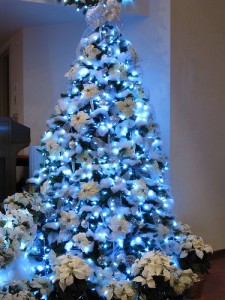 Christmas is coming soon and the season of holidays, presents and decoration of Christmas trees. But do you know what is the secret to decorate the most beautiful Christmas tree ever? It's not in the putting many items on it, but in decorating it in layers. If need instructions and hints how best to do it, read the text below.
It's one of the most wonderful traditions to decorate a Christmas tree with different lights, garlands and ornaments. In difference to the early years when people were decorating their trees only with garlands made of pop corns and home-made ornaments, these days decoration includes everything. However, if you are not sure how you want to look like your Christmas tree, here are some special ideas for a great look.
First of all, you need to start with hanging the lights on your Christmas tree. There are various types of lights in their forms and their wire strands such as traditional incandescent lights, led lights, globe lights and bubble lights, so you may choose those which match best on your tree. Start hanging from the base of the tree to the top and don't miss to wrap around every major branch of the tree.
To be sure which lights to choose, cleaners from Brompton explain them in common. The first ones are the most popular type with different sizes and colours. The Led lights are more expensive, but are safe for use because don't produce heat. The globe lights are in a shape of balls and produce light that covers larger area on the tree. And the last ones are made as retro lights and look like lava lamps.
It's best to experiment different styles of putting, mixing and using lights on your Christmas tree to find the perfect look for you!