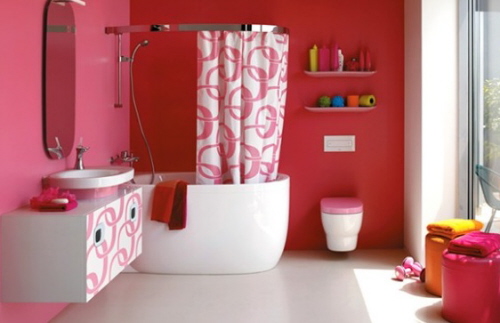 Cleaning the bathroom(s) of a house isn't a chore people look forward to, but unfortunately it must be done at least once a week in order to ensure it is sanitary. Cleaning regularly is especially important if you live in a household with many members. This article will give various tips as to how to clean your bathroom in an efficient, effective manner.
The counter-tops and/or wash basin in your bathroom are covered throughout the day with debris caused by you and other members of your family as you wash. This waste usually consists of toiletries such as shampoo and deodorant. However, the materials used in the counter-tops and basin are durable and are relatively easy to clean. Before starting to clean the surfaces you should identify what they are made of, it is likely to be either cultured marble or plastic laminate.
Don't use materials with an abrasive edge on the marble as it can potentially permanently damage the surface and make it more difficult to clean in the future. Plastic laminate on the other hand will not be damaged by rough material, and will benefit from the application of any specialised commercial cleaner.
Bathroom mirrors can become steamy when someone has a hot shower, or spotted with toothpaste and shampoo. They are very easy to clean and in most cases all you need is a dry cloth, but if the mirror is especially dirty you could make your own cleaning solution. One such solution is made by pouring vinegar into a bowl and then dipping a single sheet of newspaper into the vinegar and applying it to the mirror. Finish by drying with a soft cloth.
The biggest job when you are cleaning your bathroom tends to be the shower and/or the bath.
Showers become dirty very easily and it is recommended to clean them after each use, but as this is normally impractical dirt, hard-water and mould can build-up. This can be prevented to a certain degree by allowing continuous ventilation into your shower via an open window. Hard-water can be removed by using a solution consisting of water and white vinegar. Get rid of mould and soap scum by mixing one cup of liquid fabric softener to one quart of warm water and applying.
Bathtubs are mostly made of porcelain and it is recommended to clean them with a non-abrasive cleanser. Drain clogging can be prevented by keeping it clear of any hairs. Use any commercial rust remover to stop rust build-up but be sure to closely follow the manufacturer's instructions to prevent any accidental injury.
But remember, cleaning the bathroom is as important as cleaning the bedroom!
Finally, if you do not have the time or the inclination to clean your bathroom regularly yourself, you can utilise the services of professionals such to get the job done for you.