If you feel nostalgic about your grandpa's retro radio and now you are looking to purchase a device like that one but from this century, then you need to check out this article. Here, I will show you 3 of the best radio designs on the market. And here are they: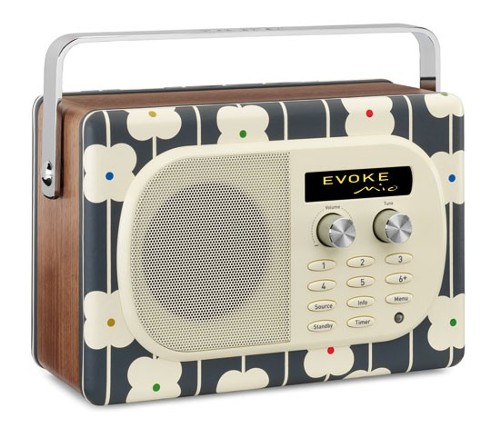 #1. Evoke Mio by Orla Kelly from Pure
This radio is a 100% beauty. Its name is Evoke Mio and it is a design by Orla Kelly from Pure. I cannot say anything else but … amazing. This cute vintage design in a combination with its latter's slate-grey Abacus print took my breath away the first time when I saw it. So, I remain speechless in front this beautiful creation. Some of its features are – OLED display, sleep timer, MP3 input, alarm, 30 presets, FM/DAB/DAB+ radio, etc.
#2. Roberts Solar DAB2 Radio by John Lewis
Believe it or not this dab radio can be turned on with the power of the sun. When the sun comes out and it shows its rays, then this radio start playing. Moreover, the sun not only turns the radio on, but charges its 3 rechargeable AA batteries, as well. How amazing is this, right? The features of this radio include mp3 input, 1 preset, 3 solar rechargeable batteries, FM/DAB radio and a LCD display.
#3. Polka Pot by Emma Bridgewater
Last but definitely not least I want to introduce to you another beautiful vintage radio design by Emma Bridgewater. It's name is "Polka Pot" and my friends from My Cleaners in West Kensington are in love with it. This time Emma Bridgewater or also known as the queen of crockery has created a real treasure with incredible vintage retro look. This DAB radio must be purchased by everyone with a good taste for such things. The features – Mp3 Input, LCD screen, 10 presets, iPod/iPad/iPhone dock, FM/DAB+ radio, dual alarm, 20W.